GrandpasFuckTeens Giggy Age gap
Enjoy free preview with Giggy from grandpasfuckteens starring in the "Age gap" scene! Once upon a time there was on old guy. He woke up one morning and felt his dick very hard. He thought he should find a chick to make the best of this "hard situation" of his, and make a lovely girl happy with his cock. He went to his son's room, searched for his phonebook and found some phone numbers of his son's ex-girlfriends. He remembered one very well, her name and number was in that little book. He called Giggy immediately. She answered the phone. "Hello Giggy! I am your ex-boyfriend's father. I'm sorry if my son hurt you. I feel bad, I want to correct his mistakes!" Giggy said okay, because yes, her heart was broken. So they met and corrected the mistakes of the old guy's son and Giggy didn't remember the bad memories any more; the old guy fucked them out from her head.
Giggy Sample Pictures
More Free Granpas Fuck Teens Scenes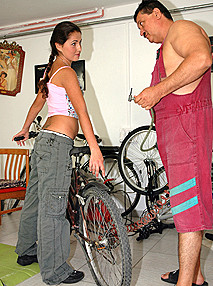 'Oh, Mr. Repairman, oh Mr. Repairman, my bicycle is broken, please-please fix it!' - cried Gail as she entered the repairman's shop. The old guy felt so sorry for the young girl he decided he has to c…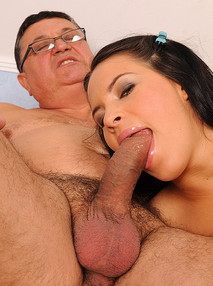 Sexy teen brunette Amabella is having her driving exam in a very short time. She's doing good but still not the best so she decided to take more lessons with her teacher Eddie who will also be the one…
Mr. Hunter is a distinguished looking old man and when his new neighbor Giggy moved in, he invited her over to see the view from his place. But then she got to see a whole lot more of Mr. Hunter, when…
GrandpasFuckTeens is the web's one genuine site for nasty young teengirls who get their load from old farts! These hotties simply love to swallow some vintage wieners, and offer a great fuck for their sugardaddies. They play with dicks, smiling innocently as grandpa works it in. She's 18 - he's 80! If you have a fetish for young girls with old men and nasty hardcore fucking, this is the perfect place for you! How much do these girls enjoy their age adventures? Visit the exclusive club to find out the answer!